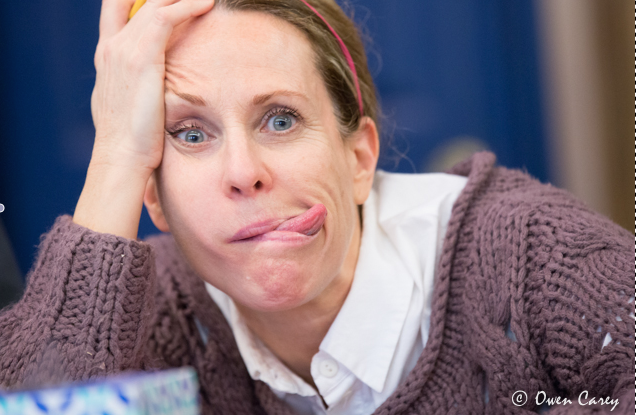 Happy anniversary
Happy Anniversary to me! I've been blogging for one year, where'd the time go?
After digging into my calendar, I found that I was rehearsing We Live Here at Hand2Mouth Theatre a year ago. During that process, through my audio description mentor Cheryl Green, I learned about an offering from Curiosity Paradox. It was called Desire Path: Dreaming Access Art, and I encouraged our creative team to watch it in rehearsal. The Curiosity Paradox had held recorded conversations with leaders in the Portland area who they thought practiced some kind of Access Art. From these conversations, they produced artistic learning materials on Access Art. At that time, it had been about a year that I'd been training to become an audio describer. As I participated in Desire Path with my colleagues at Hand2Mouth, I realized the power of feeling into the access needs of all people with whom you share space.
What are "access needs?"
Maybe your back is tight, and you reveal that you may need to take time to stretch during your meeting. Possibly you are grieving a loss and will need the freedom to leave the room occasionally. Sharing these types of needs with colleagues can draw you closer, and don't forget, if it's a stretch for you to be vulnerable, sharing yourself may encourage another human in your group to share themselves. Desire Path unwound our rehearsal that day, in a beautiful way, and moving forward, I continue to remain curious about how I can unfurl my own creative process and pursue less "doing," and open to more "being."
What the hell does that mean?
Well, at this moment, it means typing the words that come to mind about access, putting them into a word cloud and seeing what pops out!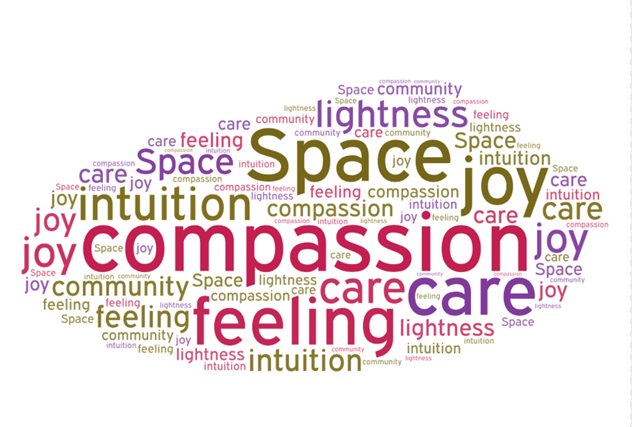 Word clouds
Have you ever made one of these? Here's a link. You can make one of your own. It's a blast. There is a current offering from Dis/Rep — Disability/Representation — a yearly series of virtual dialogues focused on disability, accessibility and culture. Dis/Rep is currently co-produced by The Curiosity Paradox, Calling Up Justice and Catalyst Consulting Associates LLC, and I couldn't recommend it more highly.
Dis/Rep
We meet on Sundays, through June 4th, although we may go an extra week. I resonate with Jonathan Paradox Lee's words, "Access is an ongoing negotiation." Unwinding my ableist habits; pushing forward in all areas of my life, rehearsals, auditions, mothering, wife-ing — is that a word? — board membership, resident artistry, freelance singing gigs — it's a lot. Setting a goal to unwind is hilarious. I want to unwind my tendency to "set" goals and end up setting a goal not to set goals? In reading The Future is Disabled, by Leah Lakshmi Piepzna-Samarasinha, I'm opening to disabled organizing and being and learning new habits to take care of myself and my community. I adore it. Disability justice makes the world healthier for everyone. You can still participate, if you are so inclined, the prior three events are available online once you register. I attended the first meeting — they're virtual — and am watching the 2nd and 3rd offerings online. Join me. It'll open your mind in ways that may surprise you.
Free to be you and me
In my voiceover and audio-description work, playfulness is an antidote to the goal of perfection. In a live recording session or even when I read written feedback on my description work, I check in with myself, do a body scan, breathe or bounce my body around. Anything to relax ultimately enables me to be in the moment. Ooooh, perfection, you ridiculous creature. Of course, I can always playfully redefine it. Also, trade secret, sometimes I listen to recordings of the podcast Two Dope Queens — Phoebe Robinson and Jessica Williams — to loosen me up. I think it was Andrea Vernae who shared this FANTASTIC duo with me. Yes, it's from the past, 2019 to be exact, but I'm ardently fangirling over Jessica Williams, especially after watching her in Shrinking on Apple TV+
See how letting go of doing and embracing being feels for you, and if you can't shake it loose, find Jessica Williams anywhere. You'll be laughing and letting go pretty quickly.
Sing a song
If you want to have some fun in the Fall, here's a link for another opportunity to hear Merideth Kaye Clark, Stephanie Lynn Smith and me sing our Stephen Sondheim show, Hey Old Friends at Clackamas Repertory Theatre on September 10th. I recommend you plan ahead; we sold out our last concert at Clackamas fast!