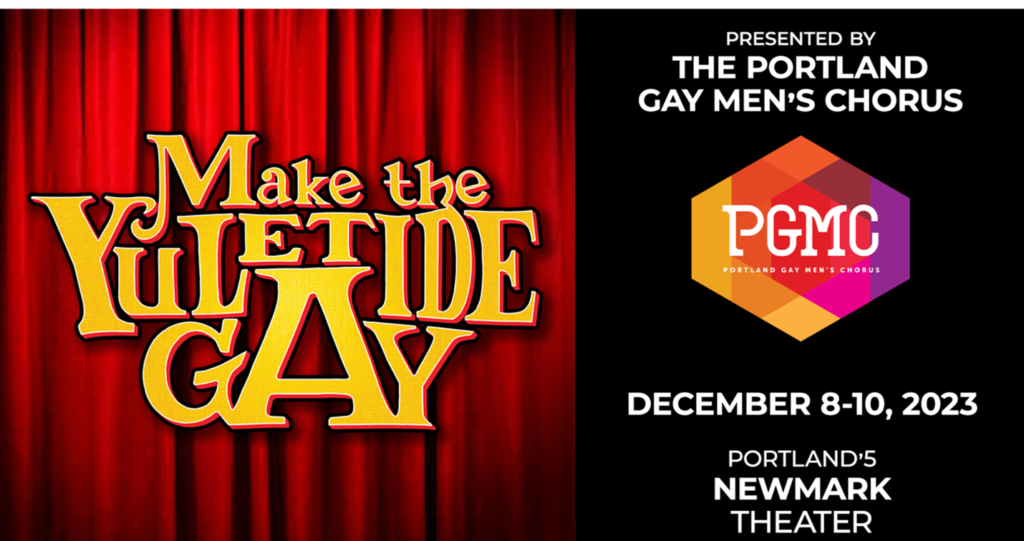 Amblin' into the holidays?
I'm thrilled to share that I'll be joining The Portland Gay Men's Chorus this year for Make the Yuletide Gay at The Newmark Theatre in December with Dru Rutledge. Find tickets here. Nobody does the holidays like the Portland Gay Men's Chorus.
Amblin' with the people in your mind
The yoga studio I shared last month, Lighthouse Yoga PDX, has introduced me to some terrific teachers, one of whom recently started class by talking about all the personalities we bring into the room. I have been steeped in that thought. She suggested that our deep soul can observe our human shenanigans, and we can nurture ourselves by learning from those observations. I'm intrigued by this distinction between our deep souls and our various personalities. She recommended a podcast, The Hidden Brain, with which you may be familiar. She gleaned a phrase from one episode she used in class: "Sorrow hunts for us. We can hunt for joy." I am on the prowl for joy.
Amblin' into my Voiceover booth
My VO booth. It's where I hang out learning, auditioning, and recording. Its window is stuck with quotes from folks like Tina Morasco and my Celia Siegel Management Team members, including coach Dan Friedman. The booth is a Whisper Room, dark and cool, with twinkly lights outlining the ceiling. My Vanguard 4 and Rode NT1 mics are ready, and my Source Connect (1MarsStudio) is just one click away. I also have Tina's Voiceover Library at my disposal. In that resource, she asks when prepping to dive into an audition: "Which version of me is talking?" And as life is circular, my yoga teacher's observation appears in another context.
Amblin' through the arts in my community
I mentioned last month that I loved walking with my dad on Chatsworth Street in our neighborhood as a little girl. What I once thought of as a "neighborhood" has expanded. The idea of proximity has changed. I can feel close to someone on the other side of the world online. I have a neighborhood of artists and colleagues in the Pacific Northwest and beyond who, although far away, I consider neighbors too. Friends and colleagues from The Social Audio Description Collective have written and produced description for the Guggenheim Museum exhibit Going Dark: The Contemporary Figure at the Edge of Visibility, which runs October 20, 2023 through April 7, 2024 in New York. Nefertiti Matos Olivares was Project Lead. Cheryl Green and Oliver Baker were the writers. Barbara Faison, Nefertiti and Thomas Reid narrated. Thomas also provided the audio editing, and all five contributed to QC. I find deep joy in innovative collaboration, like working with Krishna Washburn at Dark Room Ballet, who has a No Diagram Anatomy class you can join in November and December. As my yoga teacher suggested, you'll find me hunting for joy wherever I am. Join me.