It takes a village
In my July newsletter, I mentioned a production of Gypsy I was in at Portland Center Stage. Above is a photo from the show taken by Owen Carey. PCS's Chris Coleman, Rose Riordan, and director Bill Fennelly took a chance on me. I was slated to play one of the strippers, and in the end, played one of the theatre's most excellent parts, Mama Rose. I was surrounded by brilliant people who supported me to lift our work onto the stage. Our production of Gypsy, for instance, with book and music by Arthur Laurents and Jule Styne and lyrics by Stephen Sondheim, had three-time Tony winner Andy Blankenbuehler choreograph — later he choreographed In The Heights, and Hamilton — music direction was by Stephen Alexander, and the scenic design was by Dex Edwards. Our costume designer was another Tony Award winner Paul Tazewell. I recall Paula Buchert was a stitcher, and after the tragic events of 9/11, when Paul could not return to Portland, the incredible Jeffrey Cone completed the designer's vision. Bonnie Henderson Winnie was backstage; in her work apron pocket was my signature red lipstick, ready for touch-ups. Bonnie has been much loved colleague making work in Portland as long as I can remember. Mark Tynan was our fearless stage manager, and Barbara Casement was our costume crafts artisan; we wore a lot of hats! I'm looking for my program for the show, if I can find it, next month I'll list the entire crew.
It's astounding how many folks support theatre production. If art like this rocks your world, donate to Portland Center Stage. Each donation enables PCS to nurture a compassionate community that is part of revitalizing downtown and enables artists like me to make a living.
It takes a village in community
This blog post is partly dedicated to the divine Ms. Kimiko Matsuda at The Multnomah Whiskey Library, who, like me, loves a neighborhood amble. My dad would say, "Let's amble around," or "Let's poke around." This meant grabbing a coffee, and as we strolled the neighborhood. We'd poke our heads into local shops and have a chat, old school, no devices required. My most recent spin was in Lents, a nearby community. I often take Foster Road to the I-205 freeway to get downtown, and sometimes I go all the way to Powell and take Powell in, if the traffic's yuck or if I'm ending up on the Eastside. I love tootling down the side streets; I see new restaurants and shops. Several years ago, my husband and I walked from Gresham to downtown, mostly via the Springwater Trail. We diverged at 50th and Powell and had a blast stopping at restaurants and shops along the way that we'd never noticed by car. This trip took all day, and it was worth every minute, although now that I think of it, it was windy that day, and I lost my scarf!
On this most recent trek I didn't lose anything; I gained a few items. We planned to spend the entire day, but Gary had to take his mom to a doctor's appointment, so we shortened our date. We parked our car at Oliver's Café and walked as far as Henry Higgin's Boiled Bagels, where we had a delicious lunch. Other spots we visited; Rising Sun Koi — we needed some algae stuff for our pond — and Foster Outdoor, where we left with a new kayak paddle in hand, and a sunscreen shirt for me. Take that gooey sunscreen! I'm certain we looked pretty funny toolin' down Foster with two halves of a paddle in hand! On our way we passed Portland Mercado and The Headstrong Hound, both spots we'll return to another day.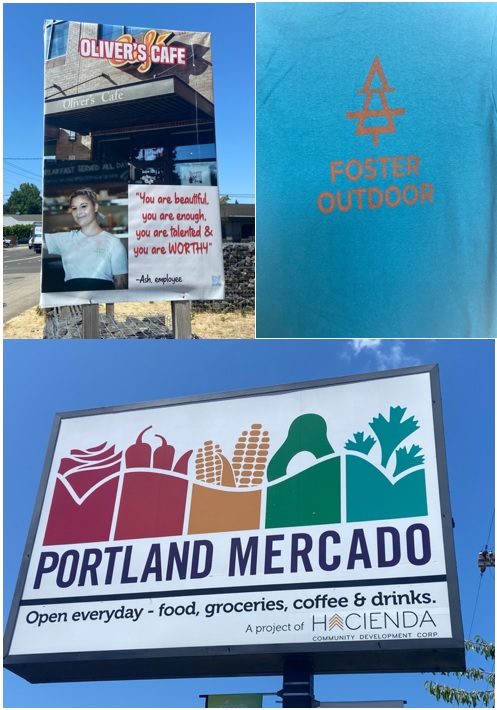 The bitch is back
I'm also happy to report that I'll return to work in a real live theatre this Fall! I'll join my dear friend Merideth Kaye Clark in Roald Dahl's Matilda the Musical from October 4 – November 5, 2023. The book is by Dennis Kelly, the music and lyrics by Tim Minchin, and it will be music directed by Eric Nordin. The choreography will be by Kemba Shannon and Brian Weaver will direct us. Your heroine is a precocious young girl stuck with a family that doesn't appreciate her intellect or love of books. But Matilda is no ordinary child — she's got a magical mind, and with the help of her kind-hearted teacher Miss Honey, she navigates the challenges of school, family, and a genuinely terrifying principal — Miss Trunchbull. Portland Playhouse sees wee Matilda as "our heroine." I'd beg to differ. Miss T will be my heroine this Fall! Does anyone know an excellent hammer-throwing coach?
And in other things performative, Merideth, Stephanie Smith, and I have got a Sondheim concert at Clackamas Rep in September. It'll sell out for sure, grab some tickets if you are so inclined!
Audio description
On August 5th at 2 p.m. I'll be at Northwest Children's Theatre in their new space, The Judy describing The Stinky Cheese Man and Other Fairly Stupid Tales. I saw the show last week and it was a delight. The new theatre is spectacular, and it comes full circle, as I recall seeing the Academy Award winning Shakespeare in Love in a theatre there when it showed movies back when I was in Gypsy across the street at PCPA — yes, Gypsy was pre-Portland Center Stage at The Armory!
I am delighted to share that I'm working with a-wol dance collective to build a touch tour for their show on this Thursday, Art In The Dark; At the Drop of a Hat. Imagine a show that is suspended from the trees! Art in the Dark is a fantastical, illuminated, full-length evening event. The company was featured on OPB's Oregon Art Beat last season. It will sell out so grab your tickets. Enjoyed by all ages, children under the age of two will not need a ticket. AND, there are snacks and drinks — even a full bar for the grown-ups. What is a touch tour, you might ask? A touch tour is held before a performance with audio description to provide context about the show and allow blind and low vision patrons to get close to the design, including costumes and props. My friend Rick Hammond and I have worked with a-wol to create a welcoming space at Mary S. Young Park. Touch tours are for everyone, join us!
I'll leave you with this brilliant rap written and performed by Toni Hickman, Georgtragic, Keith Jones, and Daniel Pemberton.