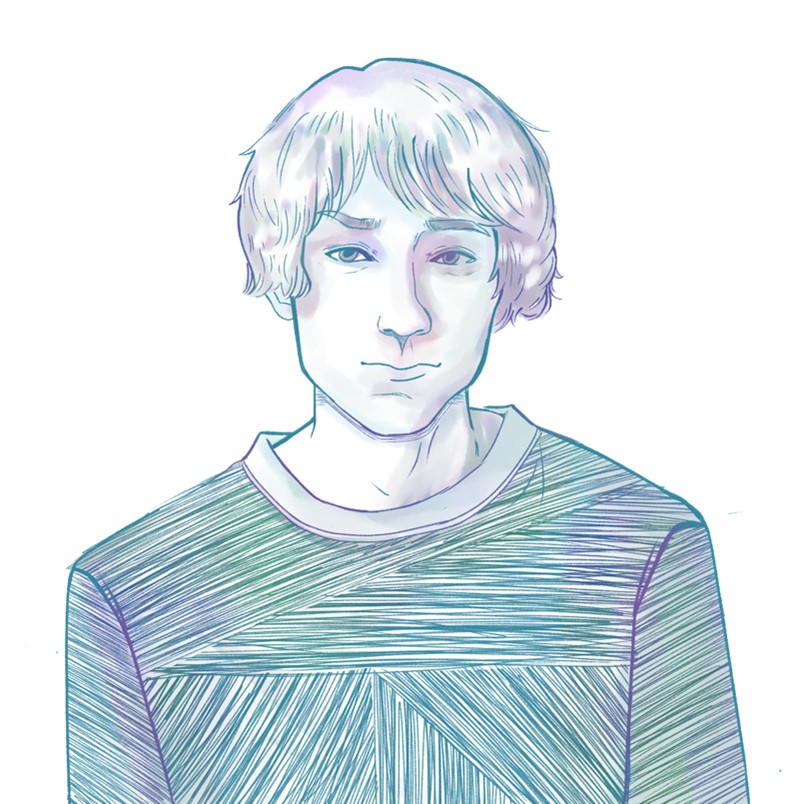 Mourning is breaking
I'm sharing another crosshatch drawing by my mentee from Family of Friends, Meadow. Meadow's art is essential to our animated short documentary, Mourning Has Broken. Audio description for blind and low-vision folks will be featured in our final film. The documentary showcases the music of Dick Titterington with whom I sing a new arrangement of a song he wrote for his son Ian, pictured above. Dick lost his son to suicide, and his song, I Never Could Know, is haunting.
Audio description deep dive
Jen Tate and Jackie Weissman at Oregon Media Lab asked me to add audio description to their Vote Now Oregon campaign, addressing the overturning of Roe v. Wade. In this audio-described video an authoritative voice was necessary, although I would have loved to have smashed some pottery too. Andrea Vernae leads the way in this video, with smooth, passionate vocals.
At VocalEye Amy Amantea says, of audio description, "Nothing about us without us." It's vital that members of the blind and low-vision communities are a part of this work from the start. I attend a monthly describer café led by Ms. Amantea, where I met Kerry Kijewski. She and Rick Hammond provided quality control for the writing and finished product of the Vote Now Oregon project.
A work around
I booked my first audio book with Macmillan Publishing, which will record next month. I'm asked to connect my ability to manage pacing and crisp articulation with warmth and compassion. I've voiced several other audio books, including Finally Dancing: A Bittersweet Odyssey, by Riva Scher. I also voiced a video for Vitro Architectural Glass. My clients wanted a sophisticated and approachable narrator, and what do you know — it was me. I learned a lot voicing an eLearning video about recycling for New Seasons. They wanted a friendly and knowledgeable voice, like the one I provided for Meals On Wheels.
Stepping deeply into voice, body and mind
I contracted COVID-19 a few months ago, and had to cancel a concert scheduled at Clackamas Rep. It was an all Sondheim show with Stephanie Smith and Merideth Kaye Clark. We rescheduled the show at ReSound NW. Between my performance career being cut off completely due to Covid, coming back to performing after a two-year hiatus, and contracting Covid, I've had to focus on my vocal health. According to Andrew Gans, from Playbill, my voice is "powerful, that she unleashes with great effect."
My voice. I am always stepping more deeply into it, unleashing it physically and mentally. I stifled myself when I was a young person. I didn't follow my passions until later in life. Maybe it was the time in which I grew up. Maybe it was my parents. I have grown into sharing my political voice and views. When I was asked to work on Vote Now Oregon, I was nervous to share that part of myself. I want to create harmony — even when it creates disharmony within myself. And yet, the most beautiful music is dissonant.
Resolution causes my heart to melt.
Dissonance, followed by revelation reestablishes harmony and balance, and is part of a healthy life. Being comfortable in discomfort, that is key. Which leads me to a book: Goddesses in Older Women: Archetypes in Women Over Fifty, by Jean Shinoda Bolen, M.D. I'm reading this book with a group of women I love, and am finding connections to aspects of myself that I've never considered — Hestia the goddess of the hearth most recently. I've always searched for that primal sense of belonging and family. I just checked out the audio book version of Atlas of the Heart: Mapping Meaningful Connection and the Language of Human Experience, by Brené Brown and will be happy for a road trip to process it.
Full circle
December 9th, at 7p.m. I'll be playing at Wilf's with the great Randy Porter. The show is called All I Want for Christmas is to Sing With Randy Porter, and critics say don't miss this sparkling voice! (That's me!) We rehearsed last week, and I am excited to make music with this brilliant pianist. On December 10th and 11th, I'll be narrating the West Coast Premiere of Benedict Sheehan's "A Christmas Carol," set for narrator, choir and soloists with the Choral Arts Ensemble of Portland.