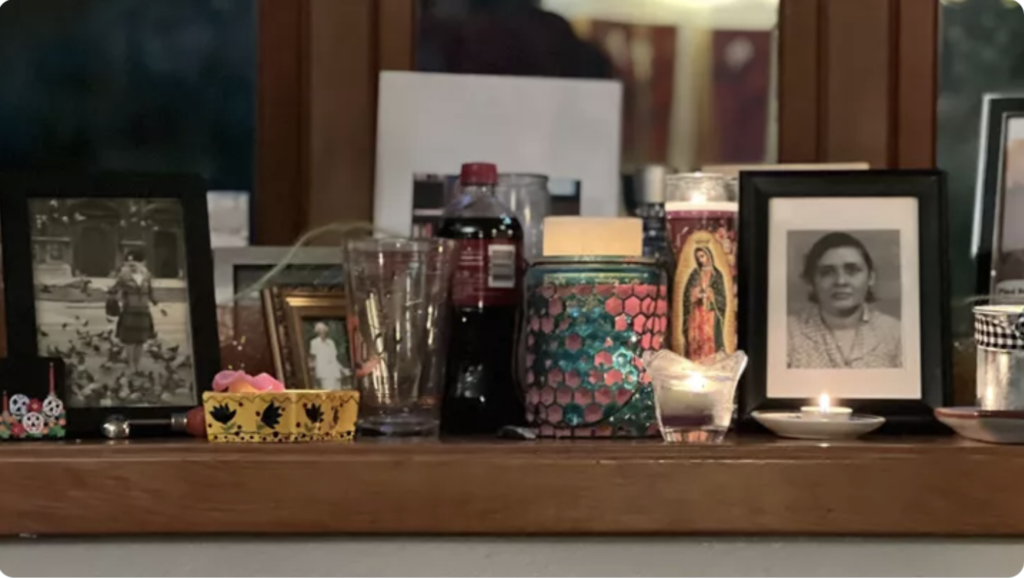 We're living through unprecedented times of uncertainty and loss right now.Some of us are seeking ways to process our GRIEF through ART.Mourning Has Broken is a short film about 4 artists grieving the loss of loved ones who collaborate to create a work of art together.
We're seeking post-production funds for animation, sound mixing, editing and audio description, and you can be a part in our Go Fund Me campaign.
[Alt ID: A window seat turned ofrenda, at left a black and white photo of a fashionable young woman, chic handbag hanging from her arm, circa 1960, in an Italian square, feeding pigeons, in front of that photo, tiny sparkly and festive dio de los muertos skulls on wire and a melon baller. Next to that a smaller photo, color, of an older woman (the owner of the melon baller) in a white pantsuit, and jaunty hat. Next to that a small bottle of Dr. Pepper next to a tall drinking glass, and then an octagonally faceted multi colored candle holder and a tall glowing virgin Mary candle. Farther to the right a black and white photo of a solemn looking dark haired Latin-X woman, wearing a checked jacked with shirt beneath. Variously sized candles glow all round, illuminating photos of some beloveds that we have lost.]
The film will include personal stories and art creation from:
*Performer Susannah Mars
*13 year old Visual artist Meadow, who is being mentored through this project
*Animator Jenny Kincade
*Musician/Composer Dick Titterington
Our film weaves together
*Vocalizations inspired by Susannah's late parents
*Artwork from Meadow who lost her father
*Animation from Jenny who lost her husband
*And, an original song from Dick who lost his son to suicide.
I Never Could Know asks the question, "What might have been if you had lived?"
Our intention is to give artists and audiences an opportunity to experience both grief and catharsis.
Oregon Media Lab's Jackie Weissman and Jen Tate lead the team as directors and creative producers.
And these vital partners are helping to strengthen our project and our experience:
*Guidance and Dia de los Muertos altar creation from grief doula, Michael Cavazos.
*Audio description for blind communities led by Rick Hammond and Cheryl Green.
*Mental health and wellness support from psycho-dramaturgist Barbara Hort.
*Emotional guidance fro grief support group facilitator Emilie Cartoun.
*Medical consultation from Kathryn Kolonic M.D.
*Community awareness and promotional support from Mt. Hood Hospice, Family of Friends, and Think NW.
We've gathered a diverse team to make this project happen in an effort to offer viewers myriad ways to relate to the on-going story of grief. When the film is finished, we hope to encourage more public and honest conversation about grief, by hosting free live events in the Portland area. These events will include a screening of the film, direct discussion with the artists, and facilitated audience participation. They will be led and supported by grief professionals from our partnering organizations, all of whom are engaged in deepening transparent community dialogue through art.
~Art credit: Meadow
[Alt ID: A tree trunk armed, light brown hand crusted with rock here and there, lifts a tiny red cap roofed with white patches mushroom house, smoke coming out of the chimney. The house has two windows in front and a wooden door. In front of the mushroom house on the hand is drooping patches of grass and a 3 stone path. There is a basket out front and a pink ribbon laundry line with a multi colored patchwork quilt drying on the line as well as a pink messenger bag. Pouring down from the crux between the thumb and fingers is a transparent blue waterfall. The sky is varigated shades of orange with white clouds all round.]