Cabaret
Enjoy an unforgettable evening!
Susannah can create a cabaret concert for any occasion. You select your favorite composers, favorite songs, a particular musical era — anything you'd like.
Susannah secures all the equipment and plans your personalized concert:
as a thank-you for employees or clients
for a special birthday, anniversary or engagement party
at business openings or gallery events
at a yearly meeting
as a fundraiser
Susannah once gave a concert in a hospital foyer, where patients, visitors and employees could all enjoy the music!
Song clips:
Peace or Prozac

Slap that Bass
Vibrate
---
Recordings
"Take Me to the World"
Susannah's CD was released and nominated for a Manhattan Association of Cabarets and Clubs "Best CD" award in 1998. Look for a new CD this year!
Read CD Reviews
"Intelligent sentiment and artistic restraint balanced with warmth, wit and great pipes."
— Bob Hicks, The Oregonian
"Mars boasts a powerful voice that she unleashes with great effect on this eclectic mix of songs." — Andrew Gans, Playbill
"Mars takes on a musical agenda of mostly unfamiliar works. Yet she made sure that each had a special story." — Dave Nathan, AMG Expert Review
Song clips:
Wheels
Humprhey Bogart
Stop Time
On Broadway
A celebration of Broadway music and its articulation of the human spirit. Featuring Susannah Mars and The Portland Gay Men's Chorus
"The first lady of the Pacific Northwest cabaret scene, Susannah Mars joins the Portland Gay Men's Chorus for a romping review of show-stopping tunes from Broadway musicals including Rent, Spamalot, West Side Story, A Chorus Line, My Fair Lady, Hello Dolly, Show Boat, Music Man, South Pacific and Hair. Featuring Susannah Mars with the Portland Gay Men's Chorus Bob Mensel, Artistic Director Michael Barnes, Principal Accompanist Mary McCarty, Conducting Associate Recorded June, 2009 at Westminster Presbyterian Church, Portland, Oregon"
Rebecca Kilgore Sings!
During the week of July 28 to August 1, a stellar lineup of some of Portland's finest jazz musicians gathered at Dead Aunt Thelma's Recording Studio in Sellwood to record fresh original material as part of a project with the working title, "Rebecca Kilgore Sings!"
Project partners Rebecca Kilgore, Ellen Vanderslice and Mike Horsfall have teamed up to produce 18 original songs, with each partner contributing melodies, harmonies and lyrics to the collaboration.  For the recording session, they brought together a dream team of musicians: Randy Porter on piano, Tom Wakeling on bass, and Todd Strait on drum, with guests David Evans on tenor sax, John Moak on trombone, Tim Jensen on flute and alto flute, Israel Annoh on percussion and James Mason on violin.  Special guest Susannah Mars performed a duet with Rebecca on a charming tune called "You Make It Look So Easy," and contributed vocal harmonies on "A Christmas Lullabye." Rebecca Kilgore  is a jazz vocalist of international fame, known for her effortless portrayals of the Great American Songbook.  This project marks her debut as a songwriter.  Ellen Vanderslice  is a composer and lyricist who is also an architect, writer, performer and walking rights activist. Mike Horsfall is a composer, arranger, recording artist, concert soloist and educator on both vibraphone and piano.  He has recorded with Pink Martini, the Nu Shooz Orchestra, and with Tall Jazz, a trio he co-founded in 1989 that was voted into the Jazz Society of Oregon¹s Hall of Fame in 2010.
A CD release (to be announced) is just one of the ways the team hopes to make the new music available.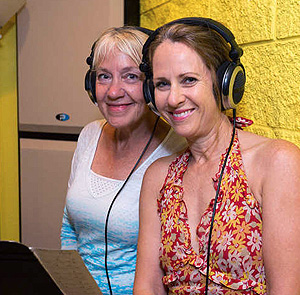 THE DOG SONG by Nellie McKay
Sung by Susannah Mars
Film by Laura DiTrapani with music by Richard Moore and Randy Johnson
Live in Central Park – Revisited: BARBRA STREISAND
May 16, 2015
Springfield, IL | The Legacy Theatre
Four of Broadway's brightest vocalists John Boswell, Brian Lane Green, Susannah Mars and Natalie Douglas arrived at The Legacy Theatre to revisit that historic evening by recreating the actual set list as it was performed that night.
---
Pops Concerts
Susannah is available for Symphony Pops concerts. She has appeared with the Oregon, Seattle and Sun River symphonies.
"Susannah Mars could be dubbed the golden girl of Portland's musical theater scene. Besides taking on pivotal roles in musicals such as Gypsy, Bat Boy, The New Brain and The 25th Annual Putnam County Spelling Bee at Portland Center Stage, plus major parts in Funny Girl and Anything Goes at the now-defunct Musical Theatre Company, she's soloed with various distinguished musical ensembles, including the Oregon Symphony under Norman Leyden's baton. She's performed in cabaret shows, and most recently at Artists Repertory Theatre, she has offered her own holiday musical revue, Mars on Life (a version of which premiered in New York City) to great response. She's earned numerous local theater kudos, including Portland Drama Critics awards for outstanding performer in four musicals. Regionally, she's performed in Seattle for such companies as the Group Theater and A Contemporary Theatre, and had her debut solo recording Take Me to the World (LML Music) nominated as best CD of 1998. Other groups she's performed with include Triangle Productions, Insight Out Theatre Collective and Ashland's Oregon Cabaret Theatre. The list marches on."
-Holly Johnson, The Oregon Music News
Song clips:
Let Me Sing
Slummin
What I'll Do
---
Private Parties & Events
Susannah Mars and Bill Wells
Nothing ensures a memorable and enjoyable evening like hosting an incredible performer like Susannah at your home or private event. Featured here with long time collaborator Bill Wells, Susannah sings from a wide repertoire of music in the intimate setting of a southwest Portland home.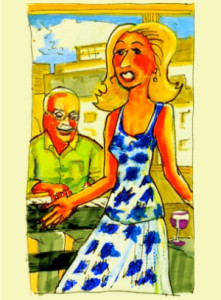 Previous Fundraiser: "Oh Those Gershwin Boys"
Sunday, June 2, 2013 4pm-7pm
Kridel Grand Ballroom – Portland Art Museum
1219 SW Park Avenue
Portland, OR 97205
For many Americans, composer George Gershwin is thought to be a national treasure. "Oh, Those Gershwin  Boys!" takes you on a musical journey through Gershwin's 1930's Broadway shows  and the golden age of film. It features Gershwin hits and brilliant gems coaxed from the archives. Gershwin's music and lyrics are witty, fun and delightfully romantic! Join us the first Sunday in June for a memorable afternoon re-living the grand Gershwin legacy through the eyes of his brother, Ira Gershwin, and George's good  friend and collaborator, Kay Swift.
Harold Schnitzer, a diabetic who passed away in 2011, dreamed of creating a center  to serve both juvenile and adult diabetes patient groups in one location. Unique in  this regard, the Harold Schnitzer Diabetes Health Center, at Oregon Health &
Science University, is the beneficiary of this fundraising gala.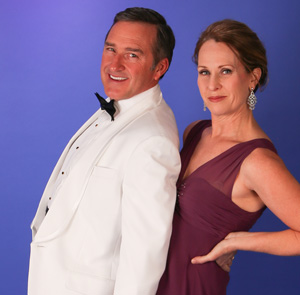 Booking:
Dangerfield Talent 
(503) 206-7772
Headshot
Resume