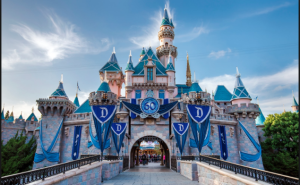 Nothing like a trip to Disneyland to put one in mind of a thorough cleanse.
Mind, body, the whole shebang.
Yes. I need to cleanse my mind and body after visiting the "Happiest Place On Earth."
Two caramel apples at Disneyland? Delicious. Corn on the cob slathered with…hmmm….not sure, but god it was delicious. Churros. Wow. Corn dogs "hand dipped." Side bar, what else do you dip them using? Pecan Roll, Slurpees, and last but not least, sangria. WHAT? At Disneyland? Yep, you heard me, they've slipped a little sangria into Disneyland. That was long overdue.
I returned home feeling as though I'd overindulged, cubed, and was somewhat numb. The people there; streams of them, the conversations; rivers of them, the crying; torrents.
We rode as singles on a particularly popular ride and I ended up with a crazy ass family. I stood in line behind two of the children, the parents were going to be in the row ahead, and the children were visibly upset. I listened; I couldn't not-have-listened unless I put my hands over my ears.
The boy had said something and the mom responded with a whisper powered by an impending volcanic explosion. "You be quiet right now. We are about to get on this ride you do not say one more thing." He responds, "but mom, I just want him to be safe." She returns, "I mean it, you stop this right now." His little sister looks worried. His father withered. I can't figure out what they're talking about for a minute. Oh geez, I look between the parents who are standing in the lane ahead of me about to get on. They have a little boy between them. He's not tall enough! The parents know he's not tall enough, and the big brother doesn't want him to fly out. Holy crap. The whispered argument lasts until we get on, get belted in, and are catapulted forward onto the tracks. We pass by the "cast member" who inspects our seat belts. The suspense is killing me. Silently I pray that that kid gets taken off. Nope. Lightning bolt anyone? Nope. I want to yell, but it's too late. Off we go, slowly at first. The mom turns around and smiles that smile "I own you," it says, and the boy, quivering lip smiles back. She turns back forward. Back round she comes, this time with her phone to take a picture of the kids. "Smile," she says. I think ,"Oh please god, let the ride take her by surprise and let her camera fly out onto the tracks and get CRUSHED," Nope again. This tyrant is gonna go free.
That's how it rolls at Disneyland. There is a large cash outlay to go to the Happiest Place On Earth, and tensions are high.
I passed another dad who'd had it, and as I walked by he yelled "Hush! You hush right now!" This was accompanied by a slap heard round the world.
Jaw dropping .
Now, in the name of honest reporting, I've been there. My family still teases me about the day I told our oldest daughter "I'm gonna take you down."
Yeah. I said that. It does sound a little Schwarzenegger, but cut me some slack, I did grow up around the movie business.
So now I'm gonna do a little admission, a newsflash: I'm in therapy, and I've been thinking about the flow of things, you know, how do I fit in? Where do I fit in? This must happen to a lot of people mid-life, though, truth be told, if this is my mid life I'm gonna get VERY OLD.
I have proscribed jobs, wife, mother, actress, daughter, sister, etcetera, etcetera, but I'm working on the idea of making plans in life and then letting life play you, like a violin, a Stradivarius, in fact.
At Disneyland, late one night, we were getting off a ride, walking through the maze of chains that delineate the route, and Jack Black walked past, with a boy who I assume is his son, were going the back route to get on. My daughter and I both looked at each other and said, "that was Jack Black, right?" Wow, Jack Black circumvents all the lines. "If only my career was going better!" I think.  Wait a minute. We were able to take a trip to the Happiest Place On Earth.  My career is just fine. 

So, the flow, back to it.
Today I'm devising my own cleanse, like I said, mind, body, the whole shebang.
I started with my yoga and some juice. I went to the market and had some very lovely conversations with the people who work at New Seasons. The woman in front of me told me she had a kindergartner who was going to have to drink out of a water bottle because the water at school isn't safe. I bought some food to barbeque for my daughter's birthday celebration. I hope it's safe. Trust. That's what I'm growing. In myself, in my family and in my world.
My friend Dick popped into my mind. I wrote him a note. On paper. Same with my friend Anne. That just feels good.
Got home, made my daughter a snack. That feels good.
It's strange to have told you two stories about two people, two families, who really exist. They're out there. That mom and dad with their three kids, and the other mom and dad with two. I'm thinking of them today. Maybe they're still at Disneyland. Maybe that mom apologized and told her son that she was sorry that she frightened him. Maybe that father did the same. I don't know. Get thee to the therapist young man. Geez. Trust.