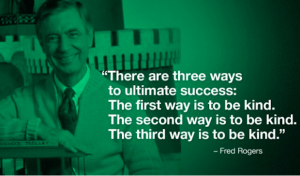 I'm getting ready to do a couple of pledge drives for Oregon Public Broadcasting this week and next, which I enjoy so much.
Mr. Rogers, I think, was the first bridge between me and my father, and  I've been a public television believer ever since.
We were on the floor watching Mr. Rogers when the show turned to the breaking news of Robert F. Kennedy's assassination, or so dad said.
How strange that this gentle neighborhood would be assailed by such an act of violence.  But of course, Fred Rogers stepped right up to this affront:
http://millercenter.org/ridingthetiger/mr-rogers-newtown
Mr. Rogers exuded wonder. He seemed to experience it each and every time he engaged, with people, with the fish he fed every day, with the puppets he invented, even when he was faced with suffering and pain.
No, I correct myself. I don't think he seemed to experience wonder, he experienced it.
I just know he did.
There was that truth in his eyes and in his smile. That smile that encompassed pain.  He was the genuine article, compassion with bones, or, as he put it, deep and simple.
Mr. Roger's neighborhood. I love(d) how that man loved the world  in which he lived; he loved it by looking at it, facing it squarely and in that showed my dad and me how to love it, and each other. I imagine he was a bridge for so many others; showing us that we were important in our very own special way. I might have thought that this was corny at one time. Not anymore. Every human being is special. What if?  What a legacy.