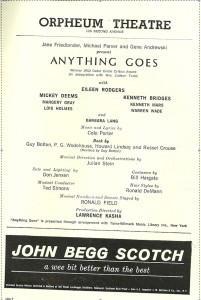 It's the fourth birthday I've celebrated without my dad, and I do miss the incredible gifting that he often did.
This year I am breathing in the incredible joy that I'm surrounded by, including being with my mom and revisiting what I'm hoping for in the coming year with friends and family.
My road, of the last four years, has been one paved with deep grief. Today I can attest to the power of grief; how dancing around with it a bit has shown me something incredible about love.
I found this Playbill from dad's production of ANYTHING GOES, the Beaumont version. So, that happened. Life, what an incredible mystery.
Anything Goes this year!