T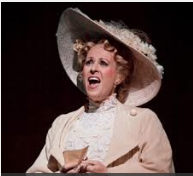 his blog post title is a red herring. Back to Before is the title of a wonderful song from the musical Ragtime, by Stephen Flaherty Lynn Ahrens and Terrence McNally.
I woke up this morning thinking about who's come before me as Mrs. Lovett in Sweeney Todd. When I played Parthy in Showboat at Portland Opera I wore some of the late-great Elaine Stritch's costumes; I know we swapped some molecules, and I was reminded of the strings of artists who have inhabited various roles.
Mrs. Lovett? To name just a few: Angela Lansbury, Patti Lupone, Imelda Staunton, Karen Morrow, Gretchen Rumbaugh, Carol Swarbrick, Emma Thompson. Big shoes, or should I say ovens, to fill.
I was listening to a podcast recently in which an actress in a Broadway show was talking about all the actors who had been assigned her dressing room prior to her current occupancy.
Those women and men prayed to whomever or whatever they pray to on opening night, they lined their counters with love notes, opening night gifts, rocks, toys, the list goes on, the talismans that make one feel the strength you need to accomplish whatever job you are undertaking; all the same, that caffeinated heartbeat, beneath other skin.
As I prepare for Mrs. Lovett I am simultaneously energized and daunted by the history of this intricate and magnificent role.
I will step up to the plate on May 9th at Portland Opera, batter up!
I've spent the last six months learning her words and notes with various coaches, voice, body, dialect; this job is an Olympic floor exercise with a 10 difficulty. (Is there a 12?)
Process, process, I keep telling myself. Courageous trust.
So when my mammogram came back with a glob in my left breast last week I thought…"What?" "Monday, another doctor appointment?" "Hmmmm…not planning for this wrinkle."
Courageous trust.
I have graphed the show for myself, each speech, each song, using the metaphor of a hike, ranging from various levels of mountainous climbs to rests by a quickly running stream.
Mrs. Lovett's final song to Sweeney as she attempts to explain to him why she has kept his wife's identity a secret, feels like a slow push off a cliff, Wiley Coyote style, with bits of greenery that he clutches at, you know how they stop his fall? But just for a second, and then his descent continues as soon as the greenery pulls out from the cliffside, and he falls once again, catches, falls, catches, and falls, until that tiny puff of smoke emanates from the ground.
He's gone in a puff of smoke. Mrs. Lovett, gone in a puff of smoke as I might, or as I will, one day.
And if today is the beginning of the end, and I have cancer—I'm sitting at the mammogram clinic wondering.
Probably what everyone else in this room is thinking.
How would the world be without me? It would be the same, just without me. I'd be elsewhere, whatever "I" is. I'd curl into a whirlwind or spread wings or be a speck of dirt in a swimming hole, a desiccated leaf; onomatopoetic, right? Desiccated. Holy, holey.
I feel fear in my breath it comes in and out of my throat; it raises the temperature of my face and warms my brooding tears.
This is my second visit. Visit one ended in having to have a second visit. Never a good sign.
There were lots of women in this lobby when I arrived. Now I'm alone, piano muzak at full tilt. Waiting.
Someone created this environment to "help" women feel more "relaxed." What bullshit. Yikes.
No acknowledgement of CANCER, except, of course the fact that the name of this place is The Cancer Center. Yikes.
I don't like the fact that that name is capitalized; let's not give any more credibility to that snake.
David Rakoff died of cancer. My father got cancer and died. My new friend Janis had cancer, she was alive, her blue eyes unforgettable and then she died
That's how it rolls. Snake.
Some doctor is in the back, not reviewing my film. He sighs (I am gonna change the gender of this doctor, GIRL POWER) SHE sighs, as the nurse approaches—"Back to work." She thinks. She's thinking about her daughter's track meet tomorrow, and I'm interrupting her reverie with my glob. My glob needs a look. Back to work she goes.
She takes a call, and I am waiting; The Rose is playing. I'm learning The Rose for The Divas! Concert I'm doing in June. She stretches as she finishes her call, wondering if her son will get into Duke.
They ask the other women as they come in: "Are you wearing deodorant?" "Powder?"
I'm an old cowhand by now, I wait.
There are many women, and a man too. Men get breast cancer too.
She looks at my pictures.
I wonder.
I had pushed my tiny breasts around, arms up, hold here, arms down, hair back, lean back, press here. It's a teeny elusive glob, that mother.
And in the waiting room we're welcoming new folks into the fold.
They didn't ask me about my scar tissue. Needle biopsy ten years ago. Could it be a mistake?
Yep, looked at the pictures, we need an ultrasound now. Back in.
The tech says; "The machine is deciding to be extra slow."
"Really?" I think.
The fear is in my feet now, tingling away, but she gave me a warm blanket out of a blanket oven here at The Cancer Center.
"Relax." She says, "You can do it.
"Really?" I think.
There will be decisions to be made if this glob has to go.
I want to decide to hop a plane to France and eat crepes and sit in the sunshine and FORGET ALL ABOUT THE CANCER CENTER.
No, FORGET ALL ABOUT the ca_ce_ ce_ter. That's how much I don't care for you, you are teeny tiny. See? And you mean nothing. You are disappearing.
The wind is leaving my sails, I wait, still, in irons, my dad called it; the sailing term for no wind.
The doctor comes in, crap, a man. I readjust my pronouns.
It's a cyst. I'm prone to cysts now, apparently.
But yes, it's great. It's a cyst. I'm Back To Before.
I tell him to  see Sweeney Todd at The Portland Opera and he says he'll ride his bike.