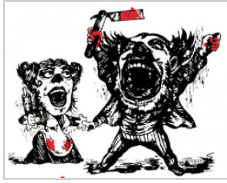 Long time no blog! It occurred to me that working on the role of Mrs. Lovett for Portland Opera's production of Sweeney Todd would be good for me to track, so here, six months into my process of learning the show, and about two weeks until we start official rehearsals on May 9th, I'm going to remind myself of my mountain climbing skills.
Often when I'm in a show I begin to learn it a few months before the production, if I'm lucky enough to know I've gotten the job that early. Lucky for me the audition was rigorous, full out performances of WORST PIES IN LONDON and POOR THING which Nick Fox helped me learn. The minute I found out I was going to be playing Mrs. Lovett, I started to learn it, slowly, but surely. That score is THICK! I pounded notes with Janet Coleman, and worked with Angie Niederloh; went up to Seattle and worked with Scott Warrender, then found out that Caren Graham was my dialect coach, and started working with her.
You see, a year ago I was set to play the Beggar Woman, and "just like fate, isn't it?" As Mrs. Lovett says, I am now playing her. What a role. Musically and psychologically complex, she is one of "the roles" in American Music Theatre.  Alongside Mama Rose, in Gypsy, which, strangely enough, was a similar casting situation for me at Portland Center Stage in 2001!  I was cast as a stripper, then a few weeks before rehearsal began, when their Mama Rose had to leave the show, I was called and asked if I might want to step in.
I'm familiar with this mountain climbing.
Last night, at Late Night Piano Bar, the brilliant chorus of Portland Opera, who are currently rehearsing THE MAGIC FLUTE, you can find tickets here: http://www.portlandopera.org/production/the-magic-flute/
Sang the opening number. I got chills. We are beginning official rehearsal on May 9th. Stay tuned here!